You need help?

For all questions we are available
Mo. - Fr. from 8:00 - 17:00
by phone.
STACKING FRAMES FROM
Wooden stacking frames for pallets are convenient and economical reusable packaging, which are used for the transportation and storage of bulky, compact or fragile products and help to further load securing. They're available in various standardised heights and can be individually adapted to the filling level.
Stacking frames have a flexible construction and allow for the optimisation of storage places. They're very durable, robust and are approved for export. We also offer a cover for the top of the frame. Are you interested in this carefully thought-out solution? We'd be happy to present you with a quote.
New Pallet stacking frames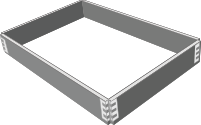 Second Hand Pallet stacking frames